Add to Cart these Storage Solutions to Keep Your Bedroom Organized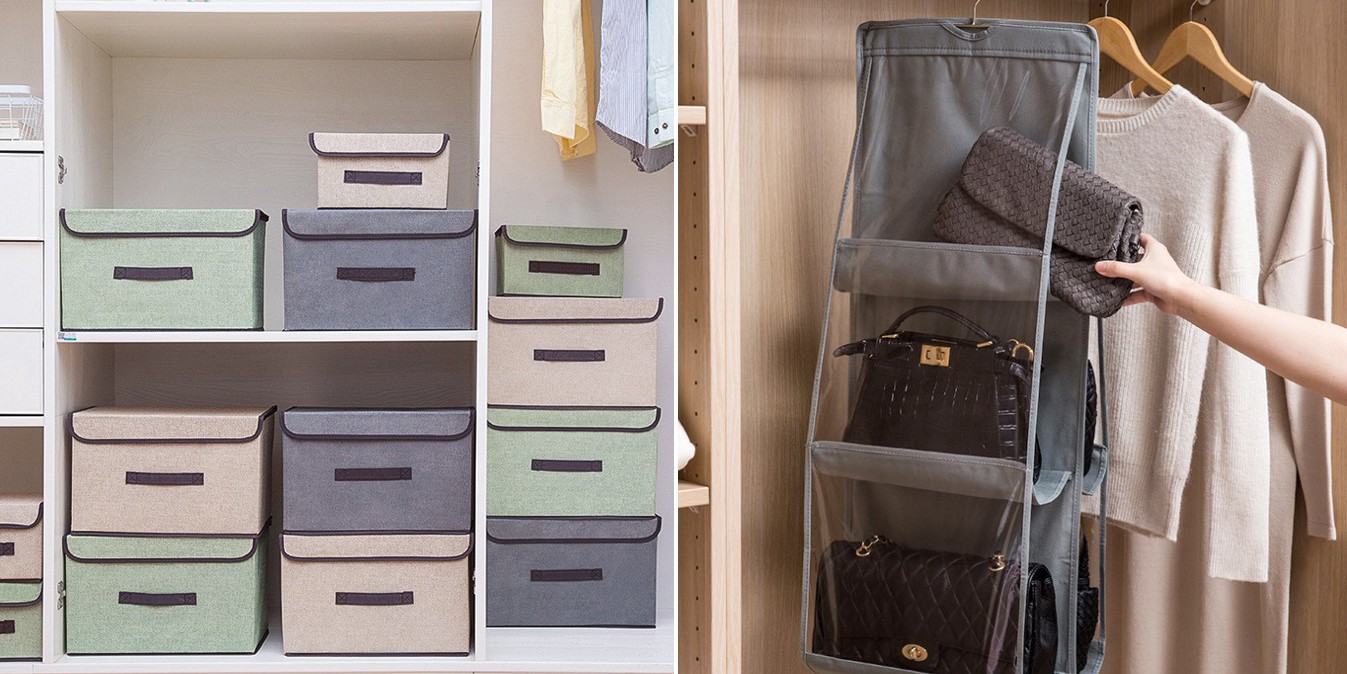 Tidy up your bedroom and keep things neat and in place starting with these minimalist and space saver storage and organizers.
ALSO READ: Shopee Finds: These Foldable Tables are Perfect for Small Homes
Misplaced things around our home tend to be the reason for the mess we need to clean every single day. Every room definitely needs smart organizers to keep things properly. From clothes, underwear, bags, shoes, and extra blankets, to accessories, books, office and school files, these things take up a lot of space and it is somewhat considered an eyesore especially when they are not stored properly.
The unnecessary clutter is indeed a nuisance and will ruin the whole vibe of the place. Lack of space and storage in the house makes it hard to store and organize things but these minimalist and space-saver storage and organizers will level up their game.
Foldable Underwear Organizer
This product enables you to store your items quickly and neatly. It allows you to find your item as easy as possible, sorts your brassiere, underwear, towels, socks, etc. It has a feature that is perfectly suitable for a walk-in closet, wardrobe and drawers. It is foldable so it's easy to store when it's not currently used.
Buy this product for only PHP40 - PHP78 (Original Price: PHP100 - PHP198).
Foldable Storage Box Organizer with Cover Set
It comes with different sizes. This foldable storage box will help you store anything neatly. With its lid design features, it can effectively prevent your things from the dust. Its convenient material is really something to brag about as it has a space saving feature and can store different and numerous things.
Buy this product for only PHP22 - PHP74 (Original Price: PHP150).
Shoe Box Foldable Drawer
This shoe box foldable drawer is perfect for everyone's small space. It is foldable and stackable so you can easily store and use it whenever.
Buy this product for only PHP24 - PHP25 (Original Price: PHP200).
Handbag Hanging Storage Rack
This item is a great alternative if you don't have a large shelf for your bags. With just a rack you can organize and store your bag without taking up a lot of space in your wardrobe. It comes with a double-sided design and transparent film so you can still see the overall appearance of your bag. It can be hung in your wardrobe, closet and even in the back of your door.
Buy this product for only PHP58 (Original Price: PHP100).
Portable Laundry Hamper
This hamper is indeed as convenient as it gets. It can load 15kg of dirty cloth, is waterproof, and moisture-proof. It has an aluminum tube handle covered with foam to have a comfortable grip. Its material has a stable and durable Oxford cloth and the material has good air permeability and quickly dries after washing.
Buy this product for only PHP180 - PHP312 (Original Price - PHP400 - PHP650).
Foldable Stool Storage
Perfect for storing magazines, books, pillows, throws, TV remotes, kid toys, dog toys, blankets and making your living room or bedroom clean and tidy. Can be used at home as a cube ottoman, footrest stool, coffee table, or can also be used outdoors as a camping or fishing stool, lightweight and foldable. This foldable stool storage with a super thick high density board and cotton linen material is a great item to have at home. It is also easy to assemble and has an easy-to-store feature.
Get this product for only PHP189 - PHP628.
Elegant Jewelry Storage
This good-looking and first-class quality jewelry box features embossed leather-clad, waterproof, odorless, easy-cleaning, constructed with wooden frame, sturdy and durable to stand large numbers of jewelry. The interior of the jewelry box is made of anti-tarnishing beaded flannel, delicate touch, and protects your jewelry from dust and wear. It also features a double-layer stackable design, more partition space, interior that can be disassembled that fits at least 40 kinds of jewelry designs. Whether you are traveling or use them at home, they are easy to organize and use.
Buy this product for only PHP252 (Original Price: PHP280).
Desk Storage
This storage is a perfect item to organize your books, pen, stationeries, and other desk clutter. It is made of high grade material that is durable to use and it has a spacious layer to store items properly. These file racks are very useful to organize your desktop, make your life more neat and will go beyond your aesthetic.
Buy this product for only PHP275 (Original Price: PHP600).
Triangular Rack
This easy to assemble triangular clothing rack is perfectly suitable in your bedroom. Have a space for your go-to clothes everyday, extra blankets or pillow, teddy bears or even your book collection. It has durable, spacious shelves and hanging space that's convenient for you to use. It also has a minimalist design so it'll match the interior of your room.
Buy this for only PHP295 (Original Price: PHP399).
Disclaimer:
Terms and conditions apply.
Prices and/or promo mentioned may end and change and without prior notice.
The products featured are independently selected by LoopMe Philippines editors. Things you buy through our links may earn us a commission.
Recommended Articles: