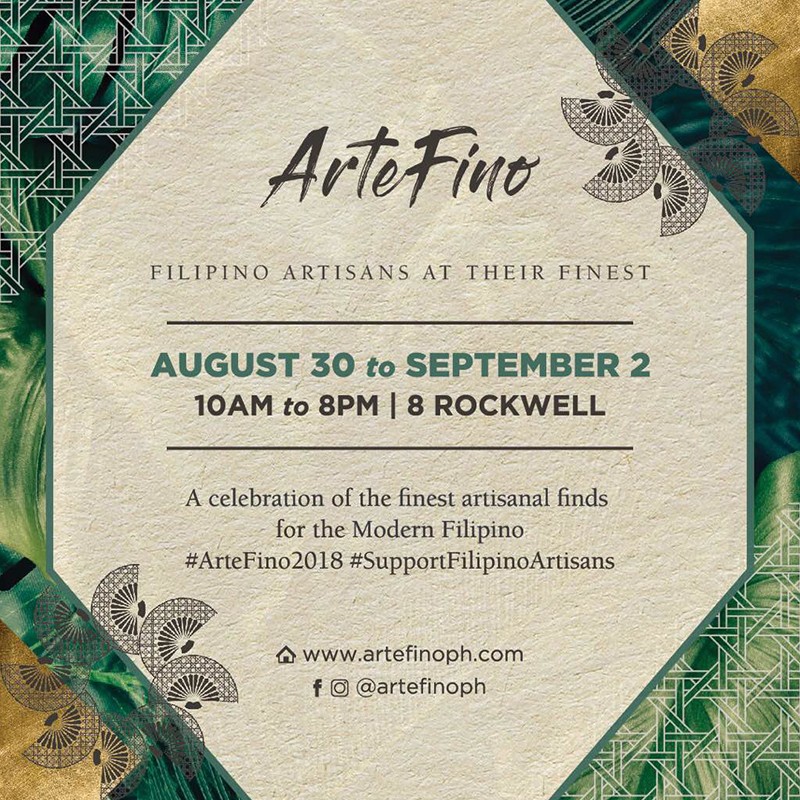 ArteFino 2018: The artisan fair that highlights the finest in Filipino
This year, ArteFino focuses on the theme "Local is the new international" as they continue to promote proudly Filipino products of international quality, support local entrepreneurship, and showcase artisanal art.
"We are working closely with our vendors to see where we can support them. Many of them we have seen evolve. We want to keep growing. Our hope is that we can inject many of our traditions in different areas of craft, art and dining, into the mix. We want to push the movement of being truly proud of what we can do as Filipinos. Wear it not just in our soul, but in all that we do," states Susie Quiros, ArteFino co-founder.
The four-day fair encourages a wide demographic to appreciate the impeccably large selection of items made for the fair. Patrons of modern Filipino craft will have an opportunity to see an all-new line from the participating exhibitors.
Here some of the exhibitors:
C&C is a home & gifts lifestyle brand that entwines the beauty & quality of local craftsmanship with the vitality of natural materials to create home & gift items that are chic & modern in design as well as versatile in function.
The Luna Bag
Interweave is a hand-crafted home accents that takes into account two ideas in mind: "going back into the natural" with the use of natural fibers such as cotton, and "continuous innovation" with regards to product development.
The Venture Lamp
HaloHalo started out by creating unique and casual bags at an affordable price point. Their items have a unique "banig" component which is made out of recycled plastic. With each collection, they try to use different materials that would complement these weaves to be able to make different bags that would suit their market.
Art of Gold Enterprises, Inc. is a company engaged in the creation of world-class hand painted interior accents. Backed up by many years of experience in painting on fabric, it has diversified into painting on wood and metal (tole) articles, enabling the creation of complete interior accent ensembles that can accessorize any home.
Inspired by botanical prints, hand-painted by talented Filipino artists
Anthill Fabric Gallery preserves and promotes Philippine hand woven fabrics among younger generations through contemporary design applications to provide sustainable livelihood among community enterprises.