Get to Know These Local Artists Cracking the Conventions of Creativity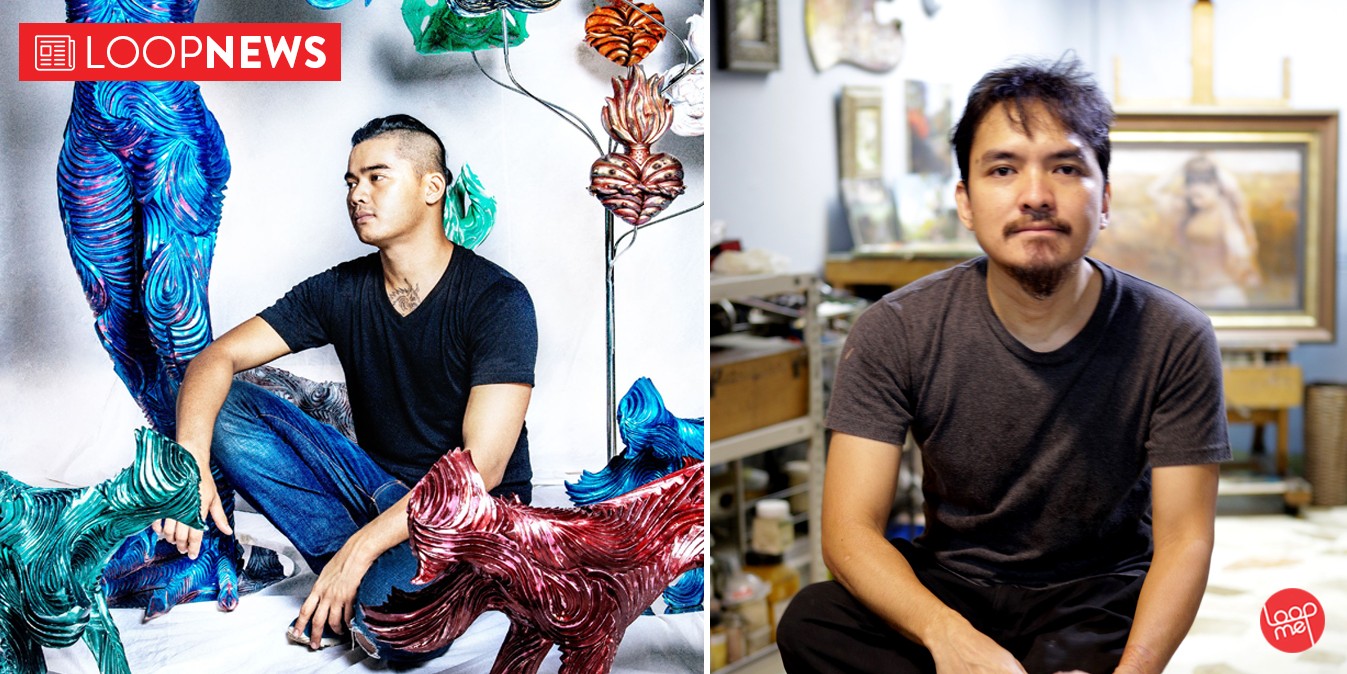 The first step to creating art involves both the artist and their imagination. How to get to that end point, however, asks a more complex question: Does the imagination lead the artist to break new ground, or is the artist fueled to keep creating because of unbridled imagination? While this delineation may forever be unanswered even to the artist himself, what remains clear is that it's important to have a venue and a foundation to let imagination rise and run.
For three imaginative artists—Leeroy New, Ivan Roxas, and Ronald Ventura, they found this first seed to their blossoming art careers in that first competition win that changed the course of their journey in different ways.
A conduit for talent
Fifteen years since his first win at Shell's National Students Art Competition, Leeroy New brought and reinvented the idea of mythology and madness to transform the Philippine art scene. Taking inspiration from folk tales and sci-fi, Leeroy transforms imagination and vividly recreates them right before your eyes.
Now, his newest venture aims to transform the world of artists, by providing a venue to channel the madness and creativity into a space where it can connect with the industry and the people.
Located in Poblacion, the heart of Makati's art sector, Kondwi is Leeroy's newest venture, a long-time passion project that has finally come to life.
"Kondwi is a combination of many different functions: a black box theater, bar and cafe, a retail space, and gallery," says Leeroy. "It's basically a creative space, one that's so unpredictable, even we are not sure how it will turn out."
One inspiration for this space is the NSAC, which Leeroy describes as one of the support he was able to get so he could further his career as an art student. "It's a major help at that point in any college art student's career, when most are still figuring out what to do when they graduate," muses Leeroy.
Imagination breeds imagination
Few artists can make viewers and critics get lost in their work. Fewer still are those who manage to make people forget that they are looking at art rather than real life. In realist painter Ivan Roxas's case, his works, some of which have ethereal beings, engage and challenge the viewer's imagination, hoping for a glimpse of the story behind the captivating image.
As one who has never had a conventional path in the arts—taught by his brother at a young age, a full-time painter in his teens, and no one mentor as master—Ivan's journey in the arts was fueled by one thing: his own imagination.
"The good thing about the arts is that it's a craft where I don't need to please anyone," shares Ivan. "I don't really need anyone else besides my canvas, colors, and brush."
This conventional approach met its match when Ivan joined the NSAC in 1997. Here, he was confronted with the realities of what it meant to have criteria and standards for his creations, and what it meant for paintings to embody good values and positive messaging. There is a sense of merging of art as a medium and art as an outlet for the curious artist.
Breaking one's own record
At the mention of "Grayground," many art enthusiasts would perk up to visualize the hyperreal and surreal work that fetched PHP47 million at the Sothebys Modern and Contemporary Southeast Asian Paintings back in 2011.
While it has been eight years since he broke the record for the auction and almost three decades since his first prize win for the NSAC, Ronald Ventura has proven that he is far from being a one-hit wonder. If anything, the only thing he may want for is time; time to let his imagination out on the canvas, vision boards, and any available creative space possible.
Just recently, Ronald opened the Bobro's World Tour Jakarta with a multi-sensorial experience. His exhibit was a space that deeply immerses the viewer in an environment of leisure and entertainment. His piece is an enclosed man cave, mounted within a golden dog sculpture. Inside is a sleek yellow and man cave, complete with a collection of shoes, and the obligatory paintings.
Ronald took the 23rd NSAC prize for the oil and acrylic painting category. While he still uses oil and acrylic in a number of his works, it is undeniable that this first step he took in the competition has now broken out into a run, chasing after the many outlets that could bring life to his imagination.
The National Students Art Competition may be the first step towards achieving one's dream in the arts. This is the reason why, even after more than 50 years, Shell continues to fuel artists' imagination with this venue for creativity.
"The NSAC goes beyond tradition—we believe it is one way for art to continue thriving in the country," says Cesar Romero, CEO and chairman of Pilipinas Shell. "The masters of today began as students and winners of yesteryears, and we look forward to establishing masters of tomorrow by fueling their imagination today."
As past winners and now-masters of their own art have shown, the National Students Art Competition is a strong foundation on which one's imagined dreams can become a reality.
For updates, follow Shell on LoopMe Philippines or visit their Facebook page.
This is a press release from Shell Philippines. Minor edits have been made by LoopMe Philippines editors.
Cover image courtesy of Shell Philippines.