LoopList: Movies to Watch Out for this February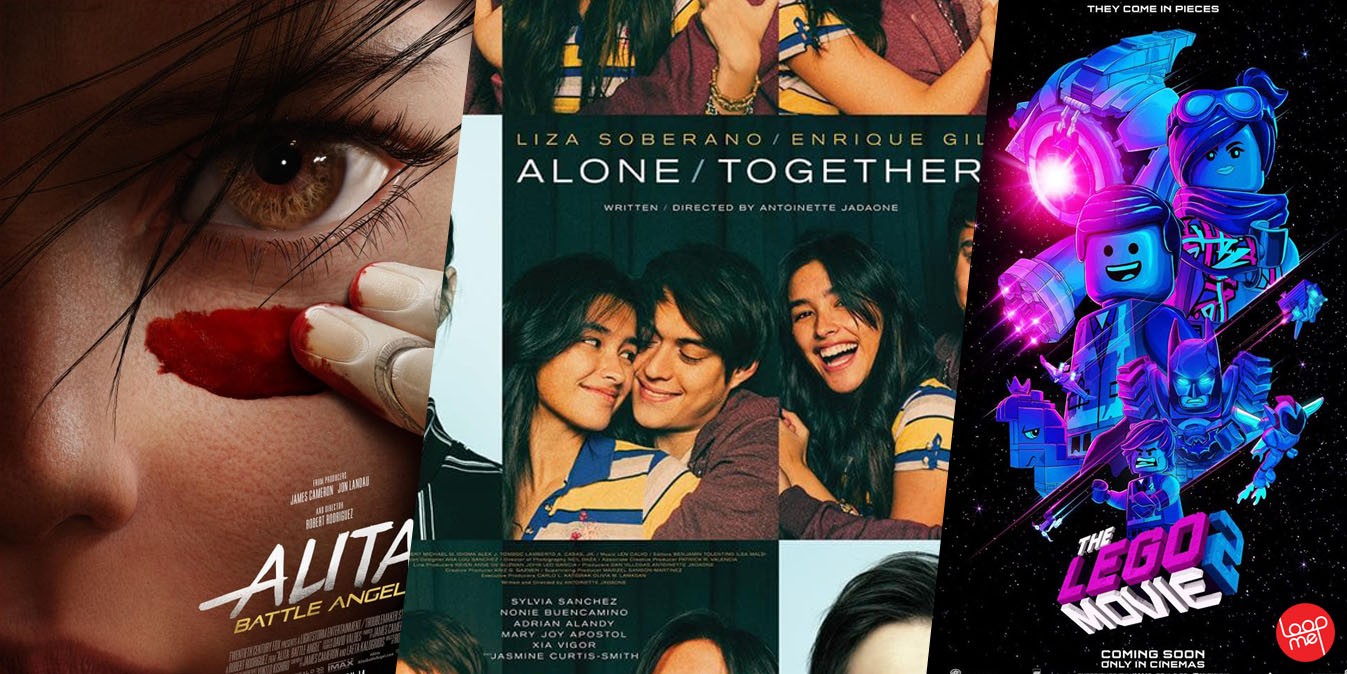 February is bringing films that would make us laugh, thrilled, excited, and feel loved! Here's a list of movies to catch this February which could be a perfect date idea this month of love:
February 6
A Dog's Way Home
A female dog named Bella travels more than 400 miles to return back to her owner. Bryce Dallas Howard voices Bella the dog and Jonah Hauer-King portrays Lucas, Bella's owner.
Alita: The Battle Angel
The movie follows the story of Alita (portrayed by Rosa Salazar), a disembodied "core" who awakens with no memory in a post-apocalyptic world destroyed by a technological fall. Dr. Ido (played by Christoph Waltz) finds her and gives her a new body and life. They later discover that Alita is more than what she seems and has an extraordinary past.
Elise
Bert (played by Enchong Dee) tells his story about Elise, (portrayed by Janine Gutierrez) his first true love.
Hanggang Kailan?
Xian Lim and Louise Delos Reyes star in this movie as Donnie and Kath, a couple who's celebrating their 2nd anniversary. But instead of looking forward to more years together, they agree that this is going to be their last even though they are still very much in love.
February 8
What Men Want
A remake of the 2000 film What Women Want, the movie follows Ali Davis (portrayed by Taraji P. Henson), who after drinking a potent concoction given by a shaman, gains the ability to hear men's inner thoughts.
February 13
The Lego Movie 2: The Second Part
Five years after the events of the first film (The Lego Movie - 2014), Finn's sister Bianca has grown up and started taking some of Finn's Lego and other toys to play with in her own room. Meanwhile in the Lego universe, the Duplo invaders have turned Bricksburg into a post-apocalyptic wasteland. Duplo invaders led by General Sweet Mayhem (voiced by Stephanie Beatriz) have kidnapped Emmet's (voiced by Chris Pratt) friends for Queen Watevra Wa-Nabi's (voiced by Tiffany Hadish) plan for taking over the universe. Emmet must team up with intergalactic hero Rex Dangervest (also voiced by Christ Pratt) in order to save his friends.
Happy Death Day 2U
Two years after the events of the first film (Happy Death Day - 2017) , Tree Gelbman (portrayed by Jessica Rothe) unexpectedly re-enters another time loop and becomes determined to escape it after finding out that she and her friends are now involved, chased and killed by a killer.
Alone/Together
Liza Soberano and Enrique Gil is back with a romantic movie for this Valentine's month. Alone/Together is definitely a movie to watch out for this month!
February 20
How to Train Your Dragon: The Hidden World
The latest installment of the How to Train your Dragon series, it follows Hiccup (voiced by Jay Baruchel) as he leads his people and dragons to coexist with each other at Berk, and trouble starts as Berk becomes overpopulated with dragons. Hiccup must find the "Hidden World" of dragons that his late father Stoick the Vast (voiced by Gerard Butler) have told him about.